Childcare Streaming Video Camera System for Daycares, Nursery's & Montessori School's

Parents love daycare centres offering our products
Already an existing Daycarewebwatch or MyKidsDailyReport parent?

Parents love daycare centres offering our products
Already an existing Daycarewebwatch or MyKidsDailyReport parent?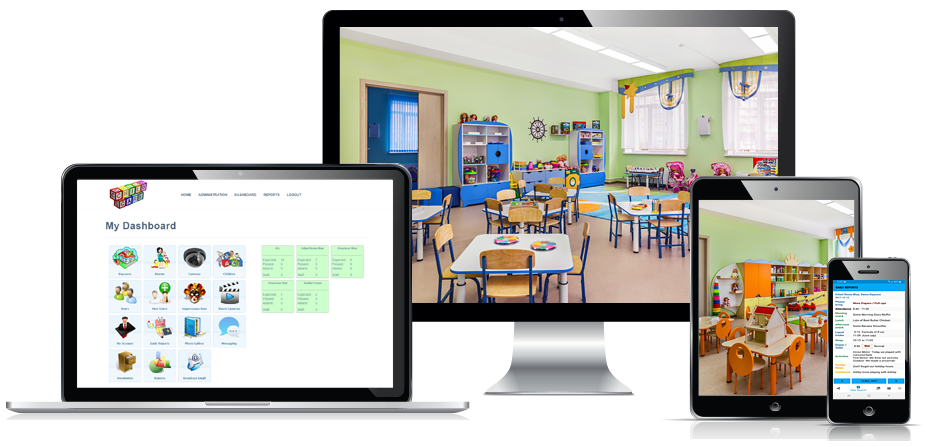 How Daycarewebwatch works
Once your daycare has set up Daycarewebwatch, you are invited to create a secure user ID and password. Once your account is active, you can log in at any time from your desktop or mobile device to see a live stream of the room. Close family members, such as grandparents, can also access the video (subject to permission from your child care site). We employ the highest security standards to protect your personal information. Your child can only be seen by others with access to the same room in the same daycare center.
Is it secure?
Our system is as secure as it can be. Everyone has a unique password and all online activity is monitored for unusal activities. Your child's center manages all of the accounts for your daycare. Only authorized users (parents, grandparents etc.) will have access to your child's room. You will not be able to see into other rooms and likewise parents with children in other rooms will not be able to see into yours, nor can users see on days when their child is absent.
Will I be able to log in from anywhere?
Yes - you can log in from anywhere, on any device or computer. Virtually every large corporation in North America, including government agencies allow access to our system at work. And unlike other systems, Daycarewebwatch is not a bandwidth hog.
How MyKidsDailyReport Works
When your daycare center uses MyKidsDailyReports, you will receive a report each day automatically sent to your inbox. The report includes information about food and liquid intake, nap times, diaper changes and activities. There is even a spot for the center to provide photos and customized comments and let you know when supplies are running low. The paper reports that were previously hard to read, lost or creating clutter are a thing of the past. MyKidsDailyReport is fully integrated with Daycarewebwatch.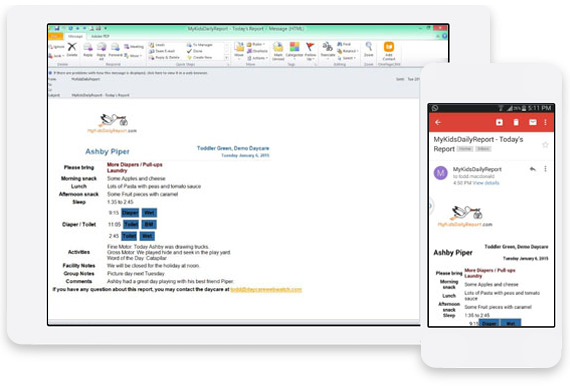 © MyDigitalGroup.com Inc. All rights reserved.